Current Release
Ver 1.6, Nov 17, 2006
All software is certified to contain No Adware, No Spyware, and No Viruses.

Download the Self-extracting automatic installation program. The software will be automatically installed to your computer.

Download the software in a ZIP archive. You will need to unzip it with a tool such as pkzip or winzip.
This software is compatible with Windows version 95, 98, ME, NT, 2000, XP, and Vista.
All SB-Software products are free of disabled features or expirations. You may try out the full functionality of the program for an unlimited time period.
Groovy Hex Editor is an editor for editing binary files. It's compatible with any type of file, including text documents, save game files, program executables, data files, etc. I've tried to make Groovy Hex Editor very easy to use, and give it a user friendly and cool looking color scheme. You can download it for free, and try it out for an unlimited period of time.
Please Purchase / Register your software today!
Register today!

"Registering" is the term we use for how you "buy" the software. Please register your software today. The price is cheap, your registration is good for all future versions, it helps me to continue to develop the software.

Paying online with your credit card is the most popular form of registering, but you may also register by using Pay-Pal, or by sending a check in the mail.
Would you like to know more about Groovy Hex Editor, and how you can use it to edit binary files ?
Want to know more? Check out the following:
| | |
| --- | --- |
| 3 | Read more about Groovy Hex Editor |

| | |
| --- | --- |
| 4 | Download it for free and try it out! |
No Hassle Guarantee:
This software features the SB-Software "No Hassle Guarantee". This software contains NO spyware, NO adware, NO viruses, NO trojans, has NO disabled features, and does NOT expire.
Recent New Features
Here's a run-down of some of the new features introduced in the recent upgrades:
New bookmark editor takes the place of the not-very-useful hex keypad.
Added settings menu
Added color and display settings
Optional Blinky or Fixed cursor
Change highlighting (things you modify change color, so you can easily notice them)
shrink-to-system tray option
string sifter and VFD displays added to tools menu
None
Features:
Groovy Hex Editor is a tool for editing binary formats. I've paid particular attention to making it colorful and easy to use and tried to give it a cool looking color scheme (hence the name "groovy" hex editor).

It's a fully functional hex editor with many advanced features. You can toggle the display between hex and decimal, and there is a built in inspector that easily lets you see the hex, decimal, and binary equivalents of a group of bytes at once.

You can easily control the number of bytes displayed per line, and the number of bytes per group. This make is excellent for viewing various data types (bytes, words, long words, etc)
Screen Shot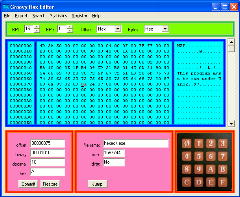 Click the screen shot above to view a full size version
Fast Facts and Features
| | |
| --- | --- |
| | Edit in hex, decimal or ascii |
| | Display data in various byte sizes - byte, work, long word, etc |
| | Object inspector shows current word in ascii, binary, decimal, hex simultaneously |
| | Cool string sifter tool to find and summarize all of the ascii strings |
| | Built in bookmark feature allows you to mark-up placeholders in your binary files that you can quickly get back to. |
Other SB-Software Programs