Current Release
Ver 4.0, Mar 3, 2005
All software is certified to contain No Adware, No Spyware, and No Viruses.

Download the Self-extracting automatic installation program. The software will be automatically installed to your computer.

Download the software in a ZIP archive. You will need to unzip it with a tool such as pkzip or winzip.
This software is compatible with Windows version 95, 98, ME, NT, 2000, and XP.
All SB-Software products are free of disabled features or expirations. You may try out the full functionality of the program for an unlimited time period.
SBJV is a great tool for viewing and sifting through all of those pictures that you have downloaded from newsgroups or websites. It's also good for managing pictures of friends and family from your digital camera.
Please Purchase / Register your software today!
"Registering" is the term we use for how you "buy" the software. Please register your software today. The price is cheap, your registration is good for all future versions, it helps me to continue to develop the software, and you get other SB-Software programs, such as QuadSucker and Sortpics included with your registration for free!!

Paying online with your credit card is the most popular form of registering, but you may also register by using Pay-Pal, or by sending a check in the mail.
Would you like to know more about SBJV Image Viewer and how and where to get some free pictures from?
Want to know more? Check out the following:
3

Check out

SBNews

, which features SBJV built in!

4

Try

SortPics

, my newest image cat program.
What does it do?
SBJV is a general purpose image viewer. It is designed to let you view image files on your computer. The file formats supported are JPG, BMP, TGA, and GIF. SBJV is a very simple to use, no-nonsense image viewer. It also includes a lot of bells and whistles for power users -- see the feature list below.
What special features does SBJV have?
I've tried to add many bells and whistles to SBJV, such as the following:
Slideshow mode: Automatically show pictures in forward, reverse, or random order.
Visual Index: Quickly browse your file areas using a thumbnail grid.
Catalog Generator: Generate those nifty catalog images you see all over the net.
Categorization: Move jpeg files with a single click.
SBJV is a continuing project and I add news features to it every now and then, so check back often.
How well has it been tested?
SBJV is extremely stable and has been thoroughly tested. It is rock-solid, and will not crash, even when trying to display corrupted image files.
Screen Shot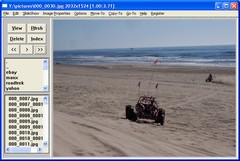 Click the screen shot above to view a full size version
Fast Facts and Features
Reads jpeg, jpg, bmp, pcx, gif, wmf, and more!
Displays vector files like windows metafiles (wmf)
Flexible printing options
Built in categorization
Built in thumbnail viewer
Quick and easy to use
Built in category image creator