Current Release
Ver 1.5, Jan 17, 2006
All software is certified to contain No Adware, No Spyware, and No Viruses.

Download the Self-extracting automatic installation program. The software will be automatically installed to your computer.

Download the software in a ZIP archive. You will need to unzip it with a tool such as pkzip or winzip.
This software is compatible with Windows version 95, 98, ME, NT, 2000, and XP.
All SB-Software products are free of disabled features or expirations. You may try out the full functionality of the program for an unlimited time period.
Visual Directory Explorer is a tool that I wrote to help me clean up my hard drive. It presents a pie chart (or optionally, a bar chart) where each slice is a subdirectory on your computer. Clicking a slice in the pie chart brings up a pie chart of that subdirectory, allowing you to recurse. I use it to figure out which programs are taking up too much space, so I know what to get rid of!
Please Purchase / Register your software today!
This software is free, but you can still register to support the author if you want to.

This software is *free* which means that you don't need to register it, or pay anything. There are no strings attached.

However, you are more than welcome to send in a registration payment, and apply it to some of my other programs.

Paying online with your credit card is the most popular form of registering, but you may also register by using Pay-Pal, or by sending a check in the mail.
Would you like to know more about Visual Directory Explorer, and how it can help you free up disk space ?
Want to know more? Check out the following:
| | |
| --- | --- |
| 3 | Download the program and try it out -- it's free! |
More information about Visual Directory Explorer:
Your hard drive is full -- what do you do? With the windows operating system, it can be incredibly difficult to figure out which programs are using up your disk space and how to free them. Sure, the install/uninstall program wizard tries to estimate how much space is used up by a program, but it's not always correct.
For example, one time I was running out of disk space, and after running VisDir, I noticed that my anti-virus software had over 300 megabytes of quarantined files in it's quarantine section (hey, I get an awful lot of spam being a shareware author...). Want another example? One day I found that Windows XP was wasting an ungodly amount of space by holding on to service pack files that it didn't need to.
Visual Directory Explorer performs a quick analysis of your hard drive and calculates how much space each directory and file is occupying this. It presents this in two formats:
a "tree" display which mirrors the file and directory layout on your hard drive, and
a graphical "pie chart" (or bar chart) display that presents, in human terms, how much space is being used up.s
Screen Shot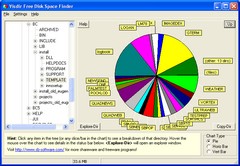 Click the screen shot above to view a full size version
Fast Facts and Features
Display pie, bar, or horizontal bar charts
Free download
Find which programs are hogging space on your hard drive