Current Release
Ver 10.4, Jun 7, 2007
All software is certified to contain No Adware, No Spyware, and No Viruses.

Download the Self-extracting automatic installation program. The software will be automatically installed to your computer.

Download the software in a ZIP archive. You will need to unzip it with a tool such as pkzip or winzip.
This software is compatible with Windows version 95, 98, ME, NT, 2000, XP, and Vista.
All SB-Software products are free of disabled features or expirations. You may try out the full functionality of the program for an unlimited time period.
SBNews/Newsbot is an award-winning tool designed to automatically download and decode files from binary newsgroups. SBNews is an incredible time saver, as its fully automatic operation allows it to run unattended overnight, downloading thousands (or tens of thousands) of images or other files from the alt.binaries newsgroups. SBNews isn't just limited to automatic downloading; you can manually select which files you wish to download as well.
Please report any questions, comments, or suggestions to email address
SBNews isn't just limited to images either -- although picture downloading is where SBNews excels, it is also quite capable of downloading any content from newsgroups - mpeg, mp3, avi, zip, rar, etc.
Please Purchase / Register your software today!
"Registering" is the term we use for how you "buy" the software. Please register your software today. The price is cheap, your registration is good for all future versions, it helps me to continue to develop the software, and you get other SB-Software programs, such as Sortpics included with your registration for free!!

Paying online with your credit card is the most popular form of registering, but you may also register by using Pay-Pal, or by sending a check in the mail.
Would you like to know more about SBNews / News Robot, and how it can accelerate your downloading experience?
Want to know more? Check out the following:
What are binary newsgroups?

(Presumably you already know this or you wouldn't be here!) Binary newsgroups contain binary files which are typically encoded via uuencode (or mime64) and sent as text. These newsgroups are a popular means of distributing data across a wide area, and in most cases newsgroup access is inexpensive and posting is allowed by anyone. Newsgroup content is very diverse -- including Newsgroups dedicated to archive files, executables, sound clips, images. Most binary newsgroups are in the alt.binaries subtree. The biggest problem is ignoring unwanted, off-topic advertisements (SPAM) which are present in newsgroups, and SBNews is designed with this important feature in mind.

What kind of binary newsgroups are out there?

There are thousands of newsgroups, on all sorts of subject. The alt.binaries.pictures newsgroups contain images, and SBNews excels at downloading from these picture newsgroups. The alt.binaries.sounds and alt.binaries.mp3 newsgroups contain music and sound effects. You can find video files in the alt.binaries.mpeg and alt.binaries.multimedia newsgroups. There are also other newsgroups that contain archive files and executable files.
SBNews downloads all types of file attachments from newsgroups - jpg, jpeg, gif, bmp, mpeg, mpg, mp3, m2v, mov, avi, rar, zip, wav, and more!

What special features does SBNews have?

SBNews has many features that make it unique. Most important are advanced methods to lockout and reject unwanted articles. The newsgroups are filled with off-topic advertisements these days and SBNews is an excellent tool to avoid wasting your time downloading junk. There are also extensive duplicate elimination features to avoid downloading the same thing multiple times. SBNews includes a full-featured JPEG/GIF/BMP viewer, as well as thumbnail viewers which show the image download in progress. There are extensive statistical functions to help you keep tabs on what's going on. File Encryption is built in to automatically encrypt sensitive data when it's stored on your hard drive. Although SBNews is intended to automatic and unattended download, manual selection features are present to allow you to manually decide which articles to download. Keyword specification is supported to allow you to further limit downloading to only articles which have a specific keyword field in the subject or author fields.


SBNews runs under the Windows environment and there are versions available for both Windows-95/98/2000/ME/NT/XP and Windows-3.1. The Windows-95/98/2000/ME/NT/XP version is the more stable of the two and I recommend running this version if possible. The 16-bit version has been reported to run in the Win-3.1 compatibility mode of OS-2/Warp.

Why should you register your copy?

I've prepared a special file on reasons to register. Shareware is a distribution method that may be new to some of you. I provide you with fully-functional software for you to evaluate -- if you like the software, you are supposed to register it. Registering compensates me for my efforts and also provides you with a few goodies in return (such as eliminating the "unregistered delay").

Scott's rantings about shareware author ethics:

I strongly support the rights of individual privacy. I do not give out email addresses or other personal information to anyone. I maintain user information in the strictest confidence, and I am willing to destroy your information at your request. I feel this is only fair and it should be expected of any reputable shareware author. I do not support Bulk-Email or Spamming. I've never used these techniques to advertise my products and I never will. Absolutely.

Does SBNews support Yenc?

Of course it does! Yenc support was introduced in version 8.3. Yenc is a new encoding format that may offer a slightly better download performance. If you don't know what Yenc is, don't worry about it -- just know that if you do encounter any Yenc messages, that SBNews will handle them correctly and automatically for you.
More about recent new features :
I've placed a page online that describes some of the changes that SBNews has received in 2007: SBNews upgrades in 2007. The biggest new features include support for SSL encryption and a redesign of most of the dialog boxes and windows.
Downloading SBNews without the setup program:
The normal distributions include an automatic setup program. You can also download a raw ZIP file of SBNews that you can simply unzip into the directory of your choice: sbn32z104.zip.
Screen Shot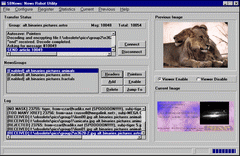 Click the screen shot above to view a full size version
Fast Facts and Features
Automatic or manual operation
Downloads movies, pictures, archives, music, and more!
Built in sophisticated spam filters
Support yEnc, uudecode, base64, and mime
Built-in support for secure SSL usenet access
Similar Programs
Android is my latest news downloader. It's has a queue-oriented design, and is intended for downloading multi-part files like movies (mpeg/mpg) and music (mp3,wav). It excels at reassembling multipart files.
SortPics is an image sorting and duplicate remover, perfect for categorizing the large numbers of images you may download with Newsbot.